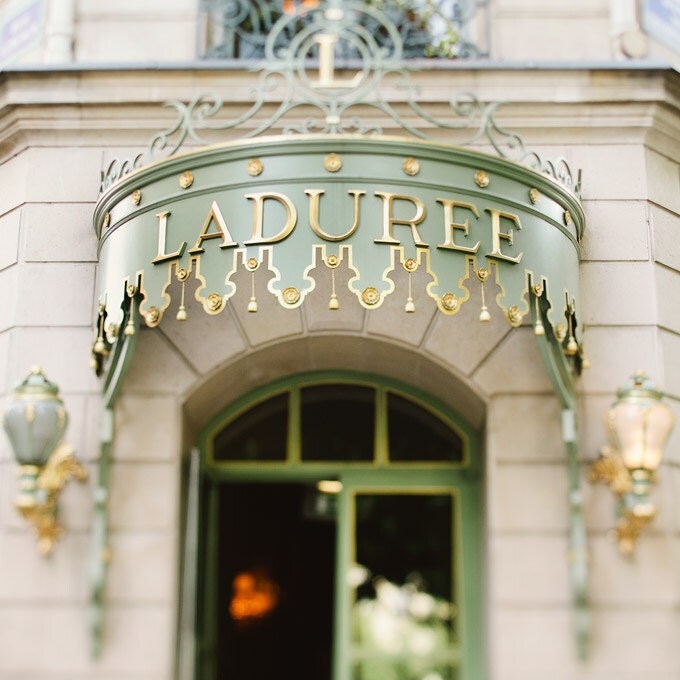 The history of Parisian tea salons is intimately tied to the history of the Ladurée family. It all began in 1862, when Louis Ernest Ladurée, a miller from France's southwest, created a bakery at 16 rue Royale in Paris. The area was rapidly developing into one of the capital's most important and elegant business districts. The most prestigious names in French luxury goods had already taken up residence in this neighborhood. In 1871, while Baron Haussmann was giving Paris a ''new face'', a fire made access to the transformation of the bakery to a pastry shop. The decoration of the pastry shop was entrusted to Jules Cheret, a famous turn-of-the-century painter and poster artist. M Cheret sought inspiration from the painting techniques used for the ceiling of the Sistine Chapel and the Garnier Opera. By incorporating them in his work, he added depth and relief to the ceilings ornamented with cherubic children and thus Laduree's iconic look was born and now 150 years on Laduree is celebrating in style!
Bon anniversaire, Ladurée!
Included in the 150th anniversary celebrations
Ladurée Seasonal Macaroons:
With the summer time now fully underway Ladurée has released the following delicious macaroons to celebrate this lovely time of year.
Iced Mint,Green Apple, Lime Basil,Strawberry Poppy,Orange Blossom,Ghana Chocolate
Ladurée has released limited edition boxes for their critically acclaimed macaroons.
The latest addition to Ladurée list of celebratory goodies is this limited edition elegant white birthday candle. The candle smells delicious enough to eat, with a soft aroma inspired by French whipped cream, packaged in a green and gold Ladurée box. The candle is priced at €50/£42 for a limited time only.
Ladurée Limited Edition Summery Pastry Creations
For each month of 2012 inline with Ladurée celebrations, a different limited edition will be released each month.
On the left hand side for July- Le Butterfly. This is a poppy cream mousse with a yuzu and wild mara heart sandwiched between a pair of strawberry macaroon shells.
Le Butterfly is priced at is 7,50 Euro
On the right hand side upcoming for August- Le Cake A La Rose. This is a little rose-flavoured cake decorated with fresh rose petals.
La Cake A La Rose is priced at 7,20 Euro
Kate and Chelsie's Experience
After hearing about Ladurée limited edition pastries Kate and I could not resist a trip to Harrods (Knightbridge, London) to try one. We were fortunate enough to try the last two Le Butterflies left in the store! The taste was breathtaking; from the first bite we took the intense flavours perfectly complimented each other making this pastry one of the best we have tried. I am already counting down the days until Le Cake A La Rose is released!