Calling all Cocktail Lovers! The Hotel Concorde La Fayette is that rarest of rarities: an actual Parisian skyscraper. Situated on the 34th floor La Vue bar is a stunning and sophisticated bar with panoramic views to die for. Take in the glittering Champs Elysee, Notre Dame, the Tour Eiffel and the glittering Seine, all while sipping on bespoke cocktails mixed by award winning mixologist Stephen Martin. The interiors are pretty spectacular done up in sexy red, designed by Italian designer Pier Luigi Copat, the bar boast chic minimalist furniture, romantic lighting with an extravagant 11,000-glass-rod chandelier as the aesthetic centerpiece. The main feature Floor-to-ceiling windows offering a staggeringly dramatic panorama of the French capital.
Star barman Stephen Martin serves up an innovative drinks menu, complemented by a selection of international bites, and there are regular live music performances.

The head Barman Stephen Martin, (who was voted "Best mixologist in France 2009), serves up an outstanding menu.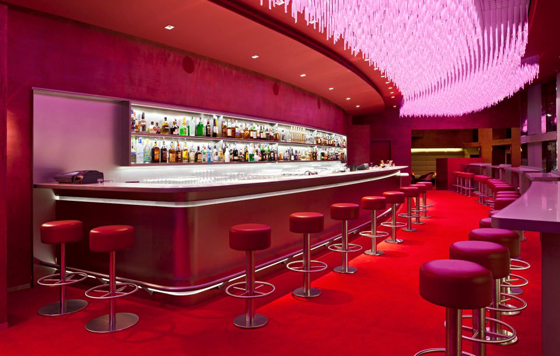 www.lafayette.concorde-hotels.fr